Summit International Canada
Custom Corridor Carpet
When it comes to finding the best **custom corridor carpet** solutions, Summit International stands head and shoulders above the rest. Every establishment, be it a hotel, an office, or a luxury apartment complex, understands the importance of first impressions. The corridor, serving as a conduit between spaces, plays an instrumental role in setting the tone for what's to come. At Summit International, we believe that the carpet beneath your feet in these passageways should be nothing short of spectacular.
Corridors experience heavy footfall, making durability a key consideration. But beyond durability, the aesthetics of the carpet can enhance the ambiance of a space. Whether it's the soothing patterns for a luxury spa retreat or the bold graphics for a cutting-edge tech company, the right carpet can make all the difference. Summit International's expertise in **custom corridor carpet** solutions ensures that our clients get the best of both worlds – carpets that are robust and visually stunning.
Our process starts with understanding your needs and vision. By collaborating closely with designers, architects, and clients, we ensure that every inch of the carpet reflects the ethos and identity of the establishment. And with customization at the heart of our services, the possibilities are endless. From intricate patterns and textures to a vast spectrum of colors, our custom designs are tailored to bring your vision to life.
But what truly sets Summit International apart is our commitment to quality. Every **custom corridor carpet** is meticulously crafted using state-of-the-art technology and the finest materials. This ensures not only a luxurious feel but also longevity, even in high-traffic areas. Furthermore, our after-sales support ensures that you're always taken care of, from installation guidance to maintenance tips.
In today's competitive landscape, every detail matters. Your corridor can either be a forgettable passageway or an unforgettable experience. Don't leave such an important aspect of your establishment to chance. With Summit International's expertise in **custom corridor carpet** solutions, you can be confident that every step taken in your corridor will be on a masterpiece.
We offer Custom Pattern, Colour, Width and Backing, these choices are available from Summit. Clients also have the choice of Tufted or Printed carpet.
Printed patterns are endless in design and colour, if you can provide a pattern, we can make the carpet.
Tufted carpet can be manufactured on many different Tufting machines i.e. CYP, Colorpoint, Cut Pile Graphics, and Enhanced Loop Graphics to name a few.
Creating the cost of the carpet has many factors.
Type of product
Quantity required
Yarn system
Colors in pattern
Width of the carpet
Type of backing
One of our representatives will be happy to work with you in selecting your product and meeting your budget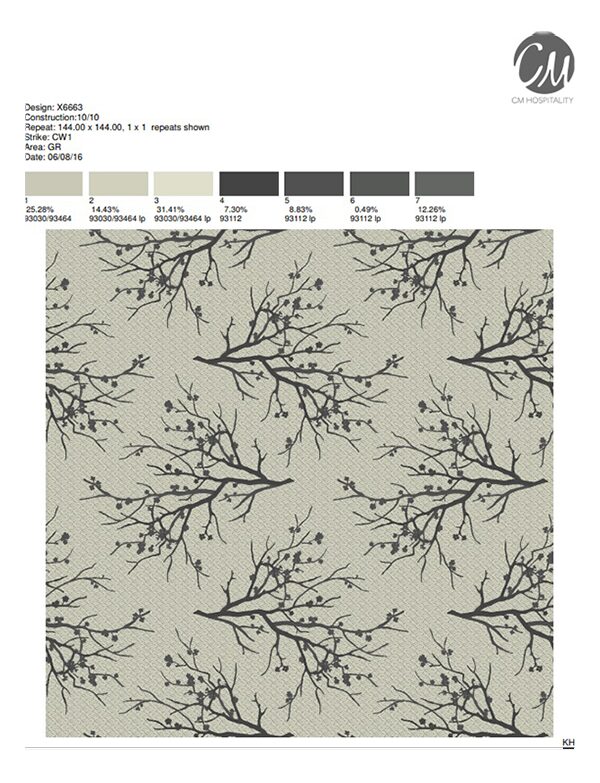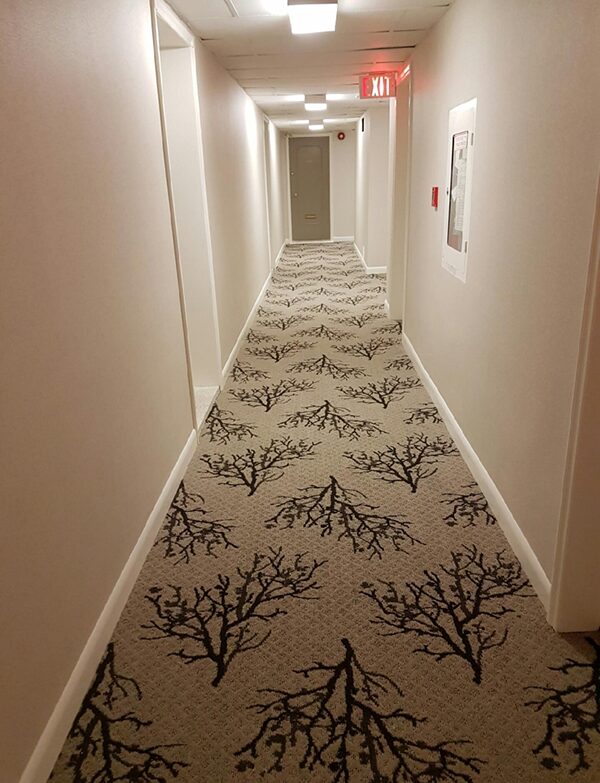 From Concept to Completion